Blockchain, the technology behind the Bitcoin phenomenon, is a type of DLT (distributed ledger technology), that is, a decentralised framework built upon a ledger of nodes (computers) across which transactions are recorded and organised in an incorruptible and encrypted chain of blocks of code. The innovative element of the blockchain is a built-in string of code that allows each block to store information that cannot be altered and can always be traced back to its origin.
The potential of the blockchain in developing countries stems from the quasi-ubiquity of connected devices and, because of its traceability and accountability, it has now produced a lively debate across Africa in that it has come to be perceived as a groundbreaking method able to bypass the several systemic flaws affecting the continent. Dr Tedd George, who heads Ecobank's Group Research, defines the blockchain as a technology that is tailored to the structural composition of African economies: 1) it is ubiquitous, organised, and traceable; 2) allows to bypass centralised scrutiny; and 3) transfers trust from an often-corruptible human being to the transparent mathematics of the encrypted code.
The debate splits as usual between two factions: on one side are the early adopters claiming that blockchain could – as mobile technology has proven to do – help African economies leapfrog and enter the digital era with cutting edge technologies; on the other are those who concerned with the fact that a blockchain-enabled society lies far ahead in the pipeline and that it would take time and energy – which could be employed to solve immediate problems – to be established
Evangelists and sceptics
Among the evangelists, there is a consensus about understanding blockchain as an opportunity to catch up with developed economies by embracing a technology that would allow to leapfrog and thwart the creation of soon-to-be obsolete bodies. In fact, among the reasons behind the high transaction costs in emerging economies is not only the presence of corrupted intermediaries – rather this may be a consequence -, but the very absence of a system of check and balances and institutions as one can find in developed countries. Yet, despite contributing to the good-functioning of society, institutions are often conservative by nature and reluctant to adopting new technologies and unsettling the status quo.
Most scepticism around it can be summarised using the words of the World Economic Forum:
'A knee-jerk pivot to blockchain when other existing technologies could suffice not only consumes resources in pointless experimentation but also slows the development of sustainable solutions for the problems at hand, and can even lead to the absorption of unrecoverable costs. Given the relatively early stages of this technology, anchoring on blockchain without consideration of associated risks, including, among others, cost, security and the relevant industry's regulatory environment, can be detrimental.'
Further, some critics have recently addressed the environmental costs of running the super-databases needed to mine cryptocurrencies – a detail that would be particularly concerning in Africa, where energy supply remains a huge issue.
From cryptos to logistics
Yet, as of mid-2018, the applications of this technology have begun to encompass a wide range of sectors. Among these, logistics, legal and financial services are the ones having the highest appeal due to their high degree of reliance on third parties. In the financial sector, for instance, cryptocurrencies are now considered as a substitute for current, highly volatile and inflation-sensitive currencies since they are not subject to the government.
A few examples of startups using or addressing blockchain technology in Africa are:
The interest in DLTs has been growing exponentially, attracting a number of initiatives such as the Blockchain Africa Conference 2018, organised by IBM and Microsoft in Johannesburg, and the homonymous in Lagos and Kampala.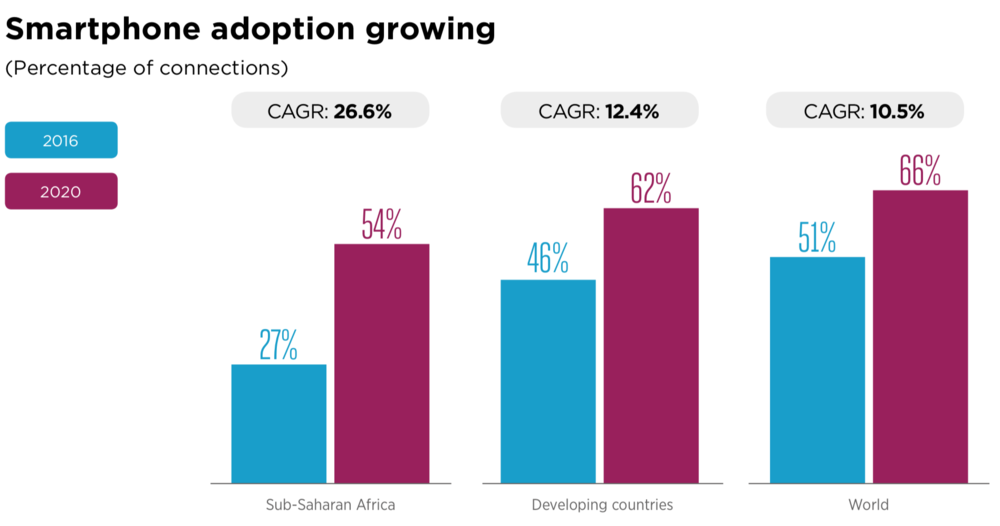 As technology becomes a tool to crowd out intermediaries, the future of interactions and transactions is likely to follow peer-to-peer models and depart from the current, dominant centralised system. In this scenario, DLTs such as the blockchain are expected to evolve into general-purpose technologies and encompass a wide spectrum of areas, especially in politics to business. As mobile has been increasingly understood as a platform for innovation across Africa – the GSMA estimates that smartphone penetration is expected to hit over 50% by 2020 and 900 million people by 2025 -, blockchain solutions could find fertile ground to thrive. Yet, technological capacity does not equal feasibility and the authorities – as it can be observed with the strict regulation applied by some governments – remain a solid obstacle against disruptive solutions and change.
In 2014, a somewhat futuristic article on WIRED claimed that 'in South America and Africa the blockchain, be it through Bitcoin or another cryptocurrency, has huge transformative potential'. Fast forward to now, the blockchain has been embraced at the level of civil society and is being addressed in political debates. Even beyond the blockchain, the progressive decentralisation of decision-making and the crowding out of expensive middlemen are already two tangible achievements made possible by the quick spreading of technology, from mPesa to Uber. Surely, technology alone cannot bear the weight of the ongoing digital transformation, especially across emerging markets. Startups can play a pivotal role in speeding up the process by putting pressures on corporations and governments and forcing them to dismantle obsolete frameworks. Yet, a successful transition will only be possible if several stakeholders – from governments to ecosystem builders – will agree on a common cause and devise appropriate strategies. And let's not forget about education. The transition process will have to include a good deal of investment in fighting digital illiteracy and providing the adequate skillsets.